Revitalize Your Pool with Our Professional Vinyl Liner Replacement Service
Repair or Upgrade your Swimming Pool's Vinyl Liner
Swimming pools are a great addition to any property. They offer a refreshing escape from the summer heat and provide an excellent place to relax and socialize. However, like anything else, pools require maintenance and upkeep, and sometimes, they need remodeling. In this article, we will cover everything you need to know about vinyl liner repair and replacement for your swimming pool.
Why You May Need Liner Repair or Replacement
If you notice cracks, tears, or wrinkles in your pool's liner, it is time for repair or replacement. These signs are clear indications that your liner has worn out and can no longer function as it should. Furthermore, damaged liners can cause water leakage, which can lead to more severe problems like foundation damage and erosion.
Moreover, it is crucial to repair or replace your liner promptly to prevent more severe issues from occurring. A faulty liner can also cause the water in your pool to turn cloudy or green, which can be a breeding ground for algae and other unwanted microorganisms. The best way to detect liner damage is by hiring a professional pool contractor to conduct a thorough inspection of your pool. They will examine your liner for signs of wear and tear and suggest the best course of action for repair or replacement.
Does your swimming pool have any of these signs?
Signs You Need To Replace Your Vinyl Liner
Visible cracks, tears, or wrinkles on the liner
Stained, discolored, or dark areas on the liner
Stretched out areas or falling out of the track
Liner becomes detached from the bead along the top edge
Water Leaking Behind Pool Liner: Pool liner leaks can cause significant damage to your liner and increase your water bill. Detecting the leak's location can be challenging, so it's crucial to seek professional assistance. Failing to repair this problem promptly may lead to costly repairs, premature liner replacement, and higher water bills. Protect your investment and prevent further damage by addressing pool liner leaks as soon as possible. Contact us for prompt repair and expert advice.


Faded or Discoloration of Pool Liner: Over time, pool liners can fade due to sun exposure, particularly at the waterline. Excessive chlorine and bleach in the water can also contribute to fading. If you have a faded liner, our skilled technicians can assess the damage and recommend options for repair or replacement. Don't let a faded pool liner detract from the beauty of your backyard oasis.


Cracked, Torn, Ripped Pool Liner: These can be challenging to patch up without professional assistance. This problem is particularly common in older liners that have reached the end of their lifespan. If your pool liner is old and damaged, it may be necessary to replace it to prevent further damage in the future. Don't risk further harm to your pool and surrounding area.


Stained Pool Liner: Stains on your pool liner can be removed with certain chemicals, but stubborn stains may require specialized treatments. It's important to note that only pool professionals should apply these treatments since they require specialized gear. Don't risk further damage to your liner by attempting to remove stains on your own.


Wrinkled Pool Liner: Over time, pool liners can develop wrinkles, often resulting from incorrect installation or water leakage into the liner. Don't let wrinkling ruin the aesthetics of your pool or contribute to further damage.
Get Your Questions Answered
FREQUENTLY ASKED QUESTIONS
Want to see all the designs & patterns available?
Check Out The Liner Visualizer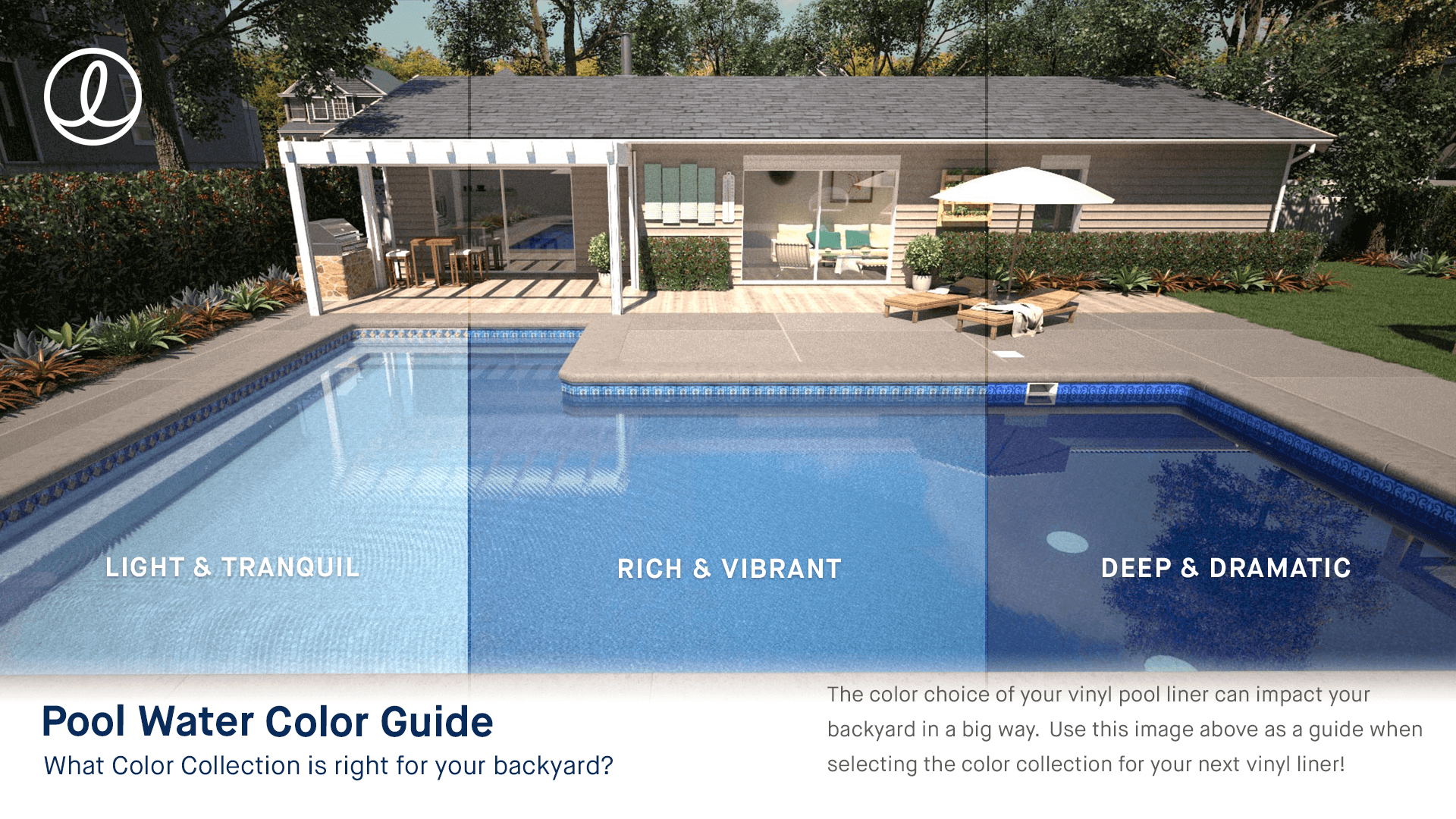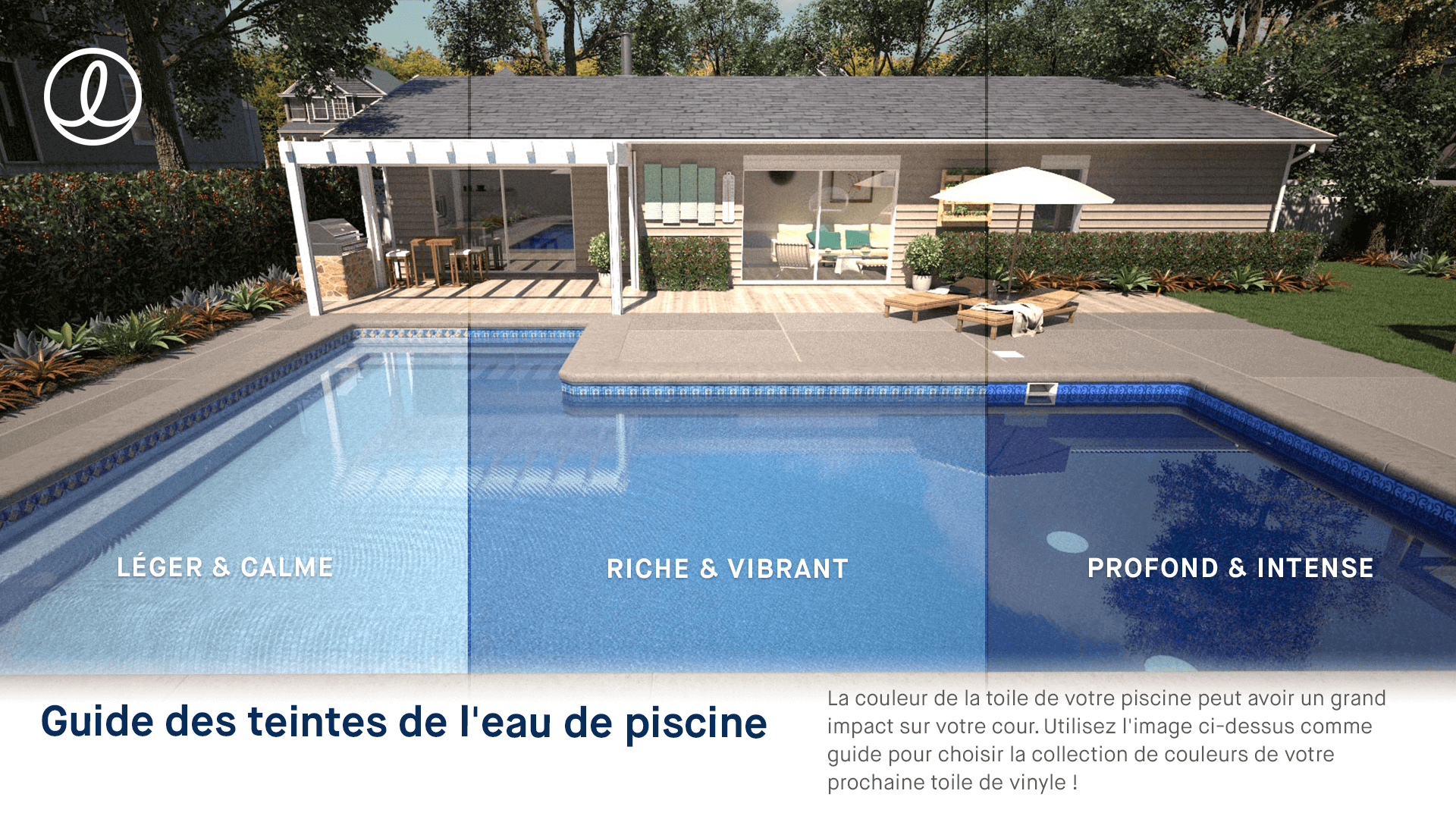 Vinyl Oversteps
Complétez votre piscine avec des marches de piscine creusée sur mesure de Latham - un leader de confiance dans l'industrie avec plus de 60 ans d'expérience. Nous pouvons adapter des designs uniques à des piscines de tout style et de toute taille, y compris des modèles de marches intégrés ou à ajouter. Tous les motifs Latham sont disponibles en texture embossée ''Tread-Tex'' pour les marches recouvertes de vinyle.Complete your pool with custom inground pool entry steps by Latham — a trusted industry leader with more than 60 years of experience. We can tailor unique designs to pools in any style or size, including built-in and drop-in designs. All Latham patterns are available in Tread-Tex embossed texture material for vinyl over step applications.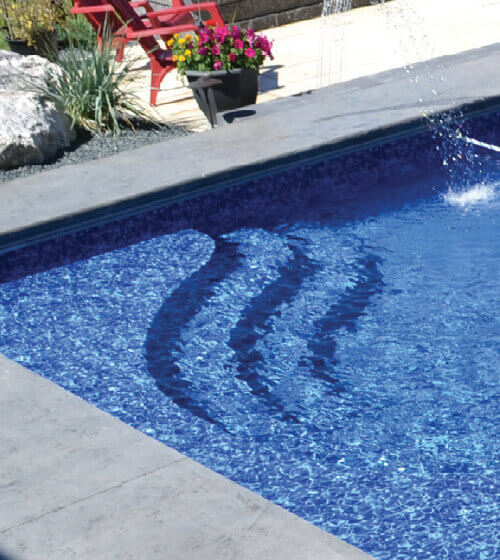 The Preferred Choice In Liners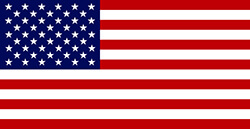 Les toiles Latham sont conçus et fabriqués à l'aide de la technologie la plus avancée et de matériaux de qualité supérieure. Vous obtenez ainsi une toile de la plus haute qualité et la mieux adaptée que vous puissiez acheter. Nous garantissons chaque toile avec l'une des meilleures garanties de l'industrie. C'est pourquoi la plupart des distributeurs proposent nos toiles plus que tout autre manufacturier ! Latham liners are designed and manufactured using the most advanced technology using premium materials. As a result, you get the highest quality, best fitting liner money can buy. We back every liner with one of the best warranties in the industry. It's why most dealers specify our liners than any other manufacturer!
Ultra-Seam ® Technology
Ultra-Seam ® Technology
Plus de 500 000 installations
Over 500 000 installs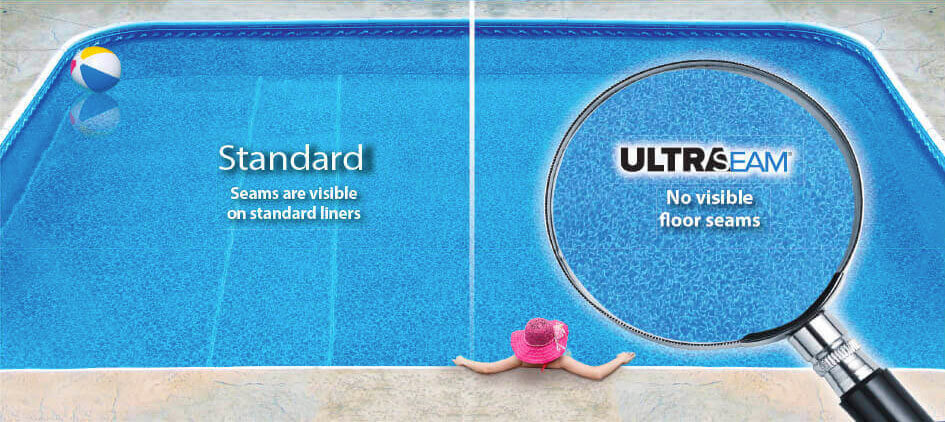 Testées et approuvées comme étant les soudures les plus solides de l'industrie !
tested and proven to be the industry's strongest seams!
Standard sur toutes les toiles Latham, notre technologie innovante Ultra-Seam élève notre toile à un tout autre niveau. Notre procédé exclusif rend les soudures du plancher plus résistantes et pratiquement invisibles, de sorte que rien ne vient gâcher la beauté parfaite de votre piscine.Standard on every Latham liner, our innovative Ultra-Seam® technology elevates our liner to an entirely new category. Our exclusive process make floor seams stronger and virtually invisible so there's nothing that gets in the way of the picture-perfect beauty of your pool.
Check Out Our Financing Options
*The credit card is issued with approved credit by Wells Fargo Bank, N.A. - Make sure to check with us to make sure you get the best rate possible!